Are you looking for convenience, ease of movement and space saving in your kitchen? Then we suggest you five smart solutions for the right layout of your furniture according to your needs and your space.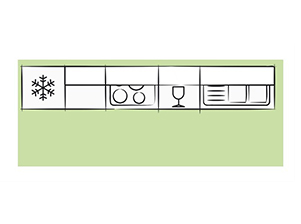 In a straight line 
If you have limited space, then the best solution is to place all the functions along the wall in a straight line.
This is a fairly functional device that will save you space, while at the same time, will provide you with the necessary convenience.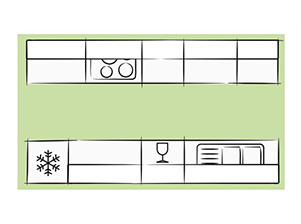 In parallel 
If your needs require a larger work surface and more storage space, then we suggest placing kitchen furniture in parallel. 

In L shape
L-shaped furniture placement will allow you to maintain the correct layout between the baking area,
of the washing area and the cooling area thus creating a motion triangle.
This way you will reduce unnecessary movements and you will have a perfect ergonomics.
It is recommended for large families as it leaves room for dining. 
U-shaped
Another suggested way to arrange kitchen furniture is in a U-shape.
It is also a practical solution that will make the most of your available kitchen space.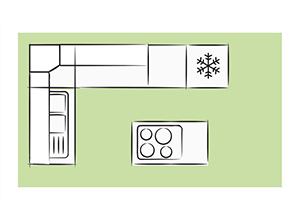 Island
Our latest solution is to place your L-shaped workbenches in the middle of the autonomous baking or washing stove.
This is a special and modern way of arranging, but it requires the appropriate connections for the electrical appliances that will be placed in the center.
Its advantage is the provision of additional desktop as well as storage space.