Leaning basin or built-in? The WC set adapts to the needs of each space regardless of size. Read below on how to easily choose your WC set.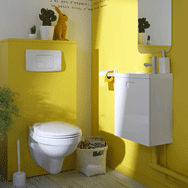 What does the WC set consist of?
The WC set consists of 3 basic elements: the basin, the cistern, and the mechanism.
The basin
 can be seated, built-in. In Leroy Merlin you will find already processed basins when creating bacteria, marked with the special mark. You will also find slow-closing basins that offer quiet lid closure and absolute safety for children, as there is no risk of their fingers getting caught.
For 
the cistern
 you have the choice between single or double mechanism. The double mechanism in the 2.6 / 4 liter cistern allows you to save water up to 20m³, while the double mechanism in a 3/6 liter cistern allows you to save water up to 40%.
The mechanism
 (floating ball, chain, valve and lever) allows the cistern to be filled without overflowing and emptying.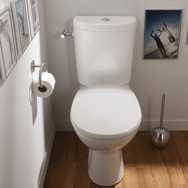 Estimated or built-in basin?
Adjacent basins:
 It is the classic type of basin, the main disadvantage of which is the size / volume. Usually the distance from the wall to the end of the basin is 79 to 80 cm and corresponds to the length between the wall and the siphon, and the size of the basin. However, at Leroy Merlin you will find various WC models suitable for saving space. Both angular basins and 60 or 62 cm projection basins are suitable solutions for small toilets.
Built-in basins:
 modern and with high aesthetics! In our stores you will find 3 types of walling: - wall, - floor and > - floor / wall parallel. Built-in basins allow you to perfectly and perfectly clean, adjust the height of the basin, and completely modern aesthetics. In Leroy Merlin stores you will also find mechanisms for cauldrons built for monotonous wall, double plasterboard. Designed on a special mechanism, the cistern, and all plumbing disappears behind the drywall, or the wall. The only obvious points are the mechanism button from the cistern and the basin itself. You can adjust the height of the basin to the height of the users. The low volume of noise when filling the cistern is another advantage of the built-in basin. Finally, some basins have a cover with a slow closing, for the safety of your children as well as to ensure the silent closing of the cover.
accessory 
To create a very personal WC space that will perfectly serve your needs and match your aesthetics, you will find in Leroy Merlin stores a wide range of WC covers as well as many accessories: buckets, hooks, mats, etc.