The bathroom, like today's kitchen, is selected and placed according to the size and decoration of the space. At Leroy Merlin you will find floor furniture and pendants in various sizes, designs and materials. Easily choose the furniture that suits your bathroom depending on the size of your family (users), and the style of decoration of your home.

Bathroom furniture is available in 2 forms:

- Furniture consisting of various parts

- Single-piece furniture and for wall mounting or mounting

The sets consist of: low furniture, countertop, sink, mirror, shelves, high furniture with one or two doors, back and shelves.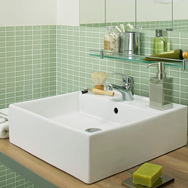 The sinks
One or more sinks? The choice of sink is based on the number of people who will be served by the bathroom and the frequency of use (are you single, couple, large family? The bathroom is located in your main house, or in a cottage?), As well as the available space. Prefer a sink for your cottage, in a small bathroom, or if you are single. On the contrary, a double sink will serve you better if you are a large family or if you have a large space in your main residence.
Washbasin types:
 Inserts, substitutes, deposits, sinks have different shapes (oval, round, square, etc.) and may have a built-in towel rack.

The bench:
In Leroy Merlin stores you will find furniture with a base / counter where you can place built-in sinks or seats.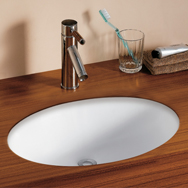 The  material of the washing
machine Ceramic sink:
 In our stores you will find glass sinks transparent or sandblasted (opaque glass). They are quite sensitive to shocks but their non-porous material makes them easy to maintain. It is advisable to wash with non-toxic (mild) detergent. 
From synthetic retin:
Material that has durability over time. It is made of natural raw materials. They are easy to clean, and do not easily retain salts and dirt. They are resistant to scratches and cleaners.

Glass:
This material offers smooth surfaces. With a wide range of designs and colors, synthetic resin sinks have good durability, easy maintenance.
Porcelain:
  Most sinks are now made of porcelain, and their processing prevents dirt and salts from remaining on the surface. Their shiny appearance does not change over time.
From Top Solid:
 Synthetic material with a smooth surface, warm to the touch, which allows for optimal hygiene. Cleaning is very easy thanks to soapy water. It is best to avoid detergents, toxic liquids and bleach.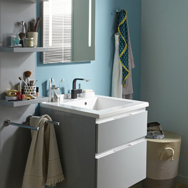 Floor or hanging furniture
Depending on the space available in the bathroom, tenants are often required to choose floor furniture. For the owners, however, the solutions are more, and the choice will be based on the available space, the quality of construction of the wall and your skill in your own constructions.
Floors:
 The frames of low furniture are designed to rest on legs, covered or not. If you are renting your apartment, floor furniture is the best solution. Easy to set up (often the furniture is already assembled), floor furniture is the ideal solution when the build quality of the wall cannot withstand hanging furniture.

Hanging furniture:
they usually have better aesthetics because they release the floor. This makes cleaning the floor easier. However, their installation requires solid walls, and the furniture does not move easily.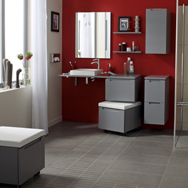 Furniture Complementary Furniture

Column:
the right solution for storing and arranging in small spaces. In Leroy Merlin you will find columns in various colors and sizes. You can select the left or right opening of the column as well as the height of the shelves inside. In our stores you will find columns with a one-piece door, most cabinets, but also with or without drawers.
Cabinets hanging:
Cabinets are used to store products that should be kept away from children (medicines, perfumes, etc.). In Leroy Merlin you will find single and double cabinets that will serve all your needs.
Shelves:
 You can place them below or in front of the mirror to save space by touching small items you use daily. (toothbrush, toothpaste, perfume, etc.)