I choose garden furniture
The choice of material for garden furniture and outdoors in general is very important as it determines both the aesthetic result and the maintenance and storage method that they will require.
Plastic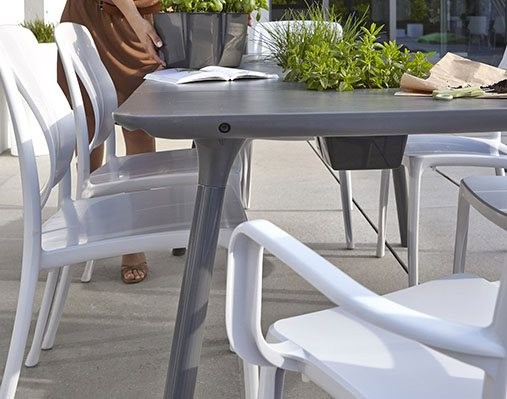 Πλεονεκτήματα
The choice of plastic for garden furniture has many advantages.

Initially its price: plastic garden furniture is the most economical on the market.

Maintenance is very simple and does not have many difficulties.

The weight of the table and chairs is minimal: therefore the movement and arrangement of the garden living room is done without much effort. 

Some furniture is disassembled with the result that their arrangement requires minimal space. The colored garden furniture fits perfectly in the garden and especially on the lawn.
Σημαντικό
The most important disadvantage of plastic is its very simple aesthetics. As a material it does not give as much natural effect in a garden as wood, rattan or bamboo.

If left exposed to the weather and the sun, the table may lose some of its luster and the plastic may wear out over time.
Συντήρηση
A sponge and soap are enough to clean the table. In winter, the table can be left outside, preferably under a protective cloth so that there is no damage.
Metal (fer forgé)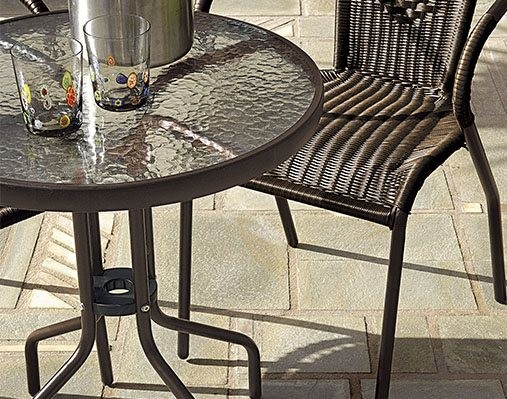 Πλεονεκτήματα
Its most important advantage is its strength: with proper maintenance it can reach 20 and over years of life, as it does not wear out.

Also metal furniture is the most economical after plastic.

Fer forgé tables can be accompanied by a glass plate or a marble plate, with a very beautiful aesthetic effect, and are intended for use in a covered area (under a roof or on a terrace for example).

Fer forgé can be painted a lot and thus allows you to change the style of exterior decoration. Also a special processing of the metal can give it a special style.
Σημαντικό
If left exposed to bad weather, the metal can rust if it does not have the proper protection with special products despite the anti-corrosion protection provided by the manufacturer.

Furniture should therefore be maintained carefully and regularly.
Iron furniture is heavier and therefore more difficult to move than other materials.
Iron chairs also need pillows to be comfortable.
Συντήρηση
Fer forgé requires regular maintenance to prevent rusting. Once a year, a product specific to this material should be used so that there is no future damage.
Aluminum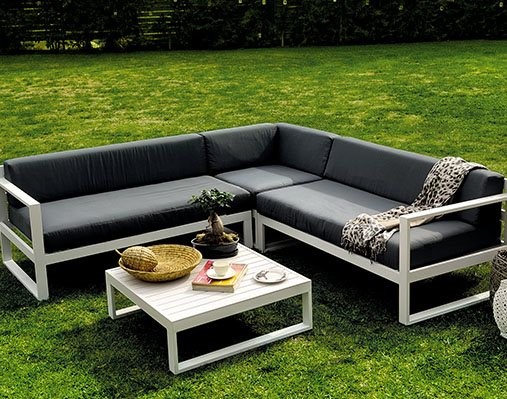 Πλεονεκτήματα
Stainless and unaltered, aluminum withstands all weather conditions and can stay outdoors all year round.
Unlike metal furniture, aluminum furniture is not in danger of rusting.
It is light and easy to move.
Usually modern, aluminum is always painted and can give a special style to the garden with warm or cold colors depending on the desired result. Aluminum furniture sometimes combines plastic elements with other aluminum elements for more comfort, and can serve as a skeleton for a rattan or bamboo upholstery.
Σημαντικό
Aluminum undoubtedly gives a less natural style to the garden than wood.
Συντήρηση
As it is very resistant to various climatic conditions, aluminum does not wear out and therefore it is easy to maintain. It withstands winter outside. Water and soap are enough to clean the furniture in early spring.
Wood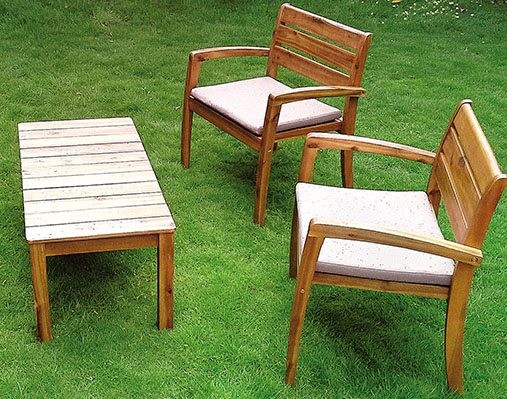 Πλεονεκτήματα
The most important advantage of wood is that it integrates very well and fits in the garden.
Wood as a material has a natural style and an authenticity that other materials do not have.
After all, wood is very resistant to weather and its aging usually has an aesthetic effect: it is patinated over time.
If properly varnished, its appearance can remain unchanged for many years.
Σημαντικό
The main disadvantage of wood is its maintenance.
At least once a year it is good to apply a protective varnish all over the table.
You can avoid this maintenance if the wood is naturally patinated with an aesthetic effect.
Finally, wood is relatively heavy as a material and therefore more difficult to move.
Συντήρηση
Apply a linseed oil or special wood oil once or twice a year.
Do not leave the wood outside during the winter because it will age the furniture faster or cover it with a protective cloth.
Bamboo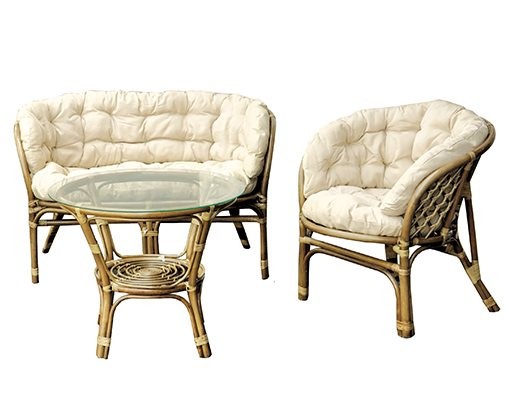 Πλεονεκτήματα
Usually dressed in an aluminum frame or fer forgé, the bamboo gives the garden an exotic and natural look.
As it comes from well-managed forests, like wood, it is an ecological solution.
Σημαντικό
Its fineness makes it a fragile material and abrupt movements can damage furniture.
Furniture should be protected from bad weather as much as possible so that water does not pass into the bamboo.
It could damage the furniture, especially if the frame is made of fer forgé (rust).
Pillows are also needed for more comfort.
Συντήρηση
Although it is more difficult to dust off plastic or metal or wooden furniture, bamboo is quite easy to clean.
The maintenance of bamboo garden furniture should take into account the interior frame of the furniture: if it is fer forgé, it needs regular inspection for rust.